To avoid commercial booking fees please feel free to book directly with us
NEW FOR 2021 – Reserved parking space in Barnoon Car Park (opposite apartment)
One Ocean Breeze is part of a luxury development of six apartments within a granite, bay fronted building, formerly the Ocean Breezes Hotel in St. Ives, Cornwall. The building is in a prime elevated location above the Tate Gallery & 200 Yards from Porthmeor surfing beach. The apartment is within easy walking distance of St Ives town and harbour.
Apartment one is located on the ground floor with a spacious open plan lounge/kitchen/diner, master double bedroom with en-suite shower room, twin bedroom, family bathroom and a small decked outside seating area to the rear.
2 minutes to beach
Wi-Fi
  Smart TV
No Smoking
No Pets
No Parties
One Ocean Breeze is a two bedroom apartment on the ground floor of a luxury development, formerly the Ocean Breezes Hotel.
The master bedroom has a king-size bed, large oak wardrobe, chest of drawers and bedside chests. It has an en-suite shower room with enclosed shower cubicle, wash basin, w.c. heated towel rail and shaver point.
The second bedroom has two single beds, large oak wardrobe & chest of drawers.
The family bathroom has a bath, shower, wash basin, w.c. heated towel rail and shaver point.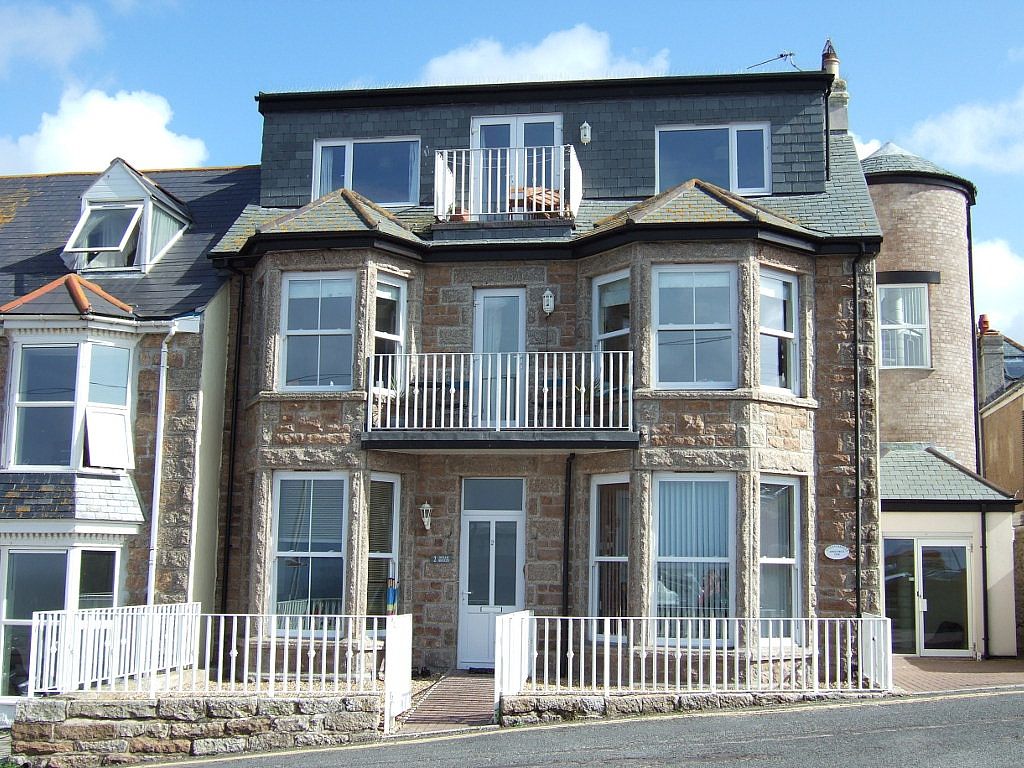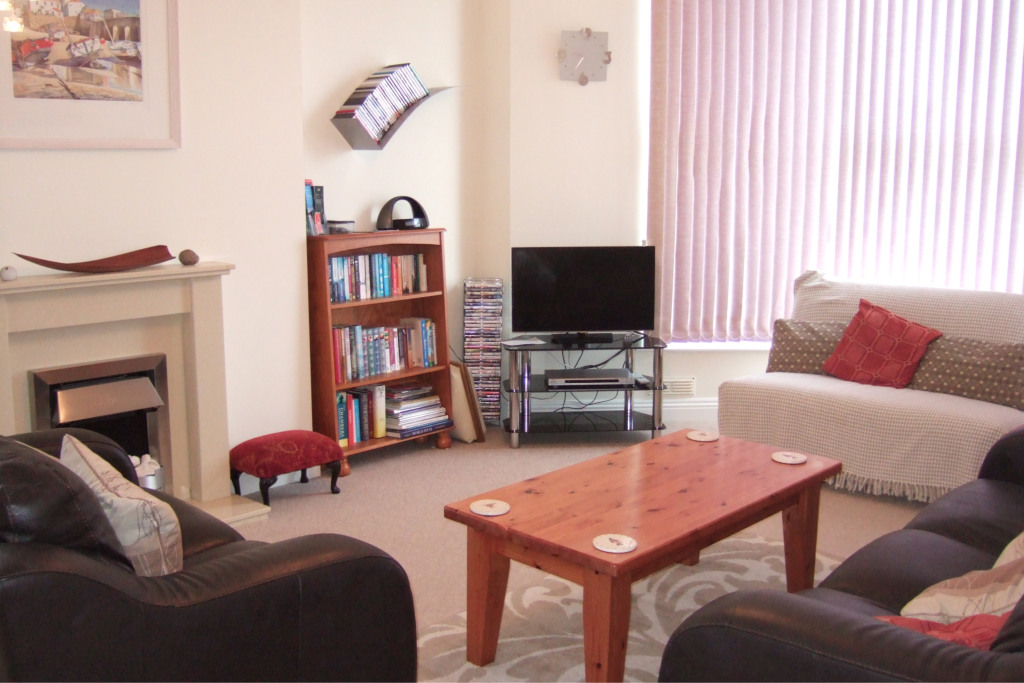 At the front of the property is a spacious open-plan lounge/kitchen/diner with views out to sea through the large bay window. The modern fitted kitchen is fully equipped with a gas hob and electric double oven, integrated dishwasher, washer-drier, microwave and built-in fridge/freezer.
Next to the kitchen is a dining area with a large pine table & 4 chairs, whilst the seating area at the front has two leather sofas, coffee table, Smart TV, DVD player and an electric fireplace.
The picturesque harbour town of St. Ives, situated on Cornwall's Atlantic coast, never fails to enthral all who visit, whether for a day, a short break or a full length holiday. The quality of the light has attracted artists for centuries and the many galleries still to be found here, amongst the maze of cobbled streets, are a delight to wander around. Some of the more famous names associated with St. Ives are Barbara Hepworth, Bernard Leach and The Tate Gallery.
The beautiful rugged coastline provides stunning views around St.Ives Bay and offers lovely coastal walks for the more energetic visitor. If surfing the Atlantic waves or relaxing on the golden sands, is more your idea of the perfect holiday then there are several award winning beaches to choose from.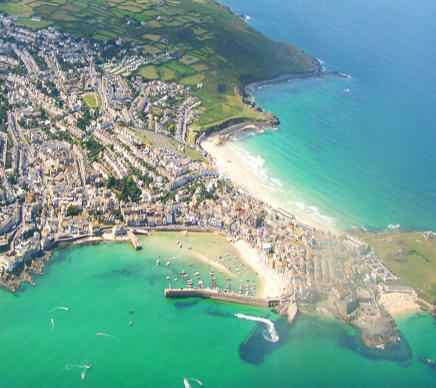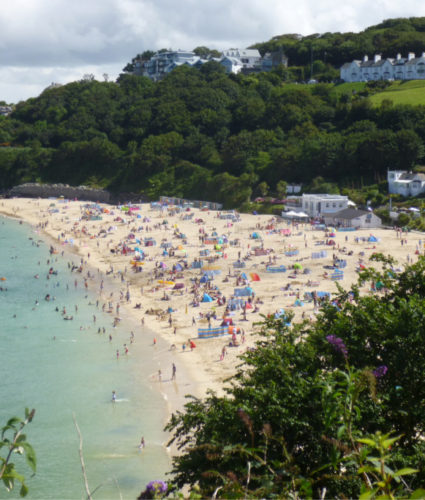 Food and drink are often a high priority for visitors to St.Ives and amongst the many, fine restaurants there is something to suit every taste, with several local chefs specialising in the seafood caught around the bay.St.Ives provides a good base for getting out and about and exploring South West Cornwall. Also, with good road and rail links, other parts of the county are now very accessible. Popular places to visit include Land's End, The Minack Theatre, St. Michael's Mount, The Eden Project, Gweek Seal Sanctuary, Paradise Park, The Lost Gardens of Heligan, and The Poldark Mine to name but a few!
However much time visitors stay in St. Ives it never seems to be long enough. There is something very special about this little harbour town that keeps drawing people back time and time again. Once you've been here yourself you'll know the reason why!
Stayed at One Ocean Breeze in February 2020 and it was really nice, clean and spacious for 2 adults and 2 teens. Really great location, easy walk to beaches and town. Hosts really friendly and accommodating, making sure we had what we needed, with a welcome card and milk, which was a nice touch, as Storm Dennis upset the weather – so didn't have to go out to get milk for our first cuppa. Would recommend staying here. (John and Rachel)

We stayed here for a weekend recently and had a lovely time. The apartment is tardis-like, with large rooms and hallways, all really fresh and newly-decorated, and was very well equipped, from the useful bits and pieces in the kitchen to the body boards and buckets and spades for the beach. The owners were really helpful before we arrived, and – really nice touch, this – left a birthday card and gift for our daughter who was celebrating her birthday while we were there. The apartment is very well situated, with everything in walking distance (albeit up hill – helped work off the pasties and fudge), and we would certainly recommend it for a short break or a full holiday – we hope to return soon. (Clive and Jacqueline)

Liz & David's place, their hosting and care was exceptional!  From beginning to end, their interest and genuine desire to help was wonderful and very much appreciated.  The apartment is very comfortable, clean, and easily accommodates four people.  It is close to the Tate and beach, and only a few minutes walk into town.  I highly recommend and will definitely stay again if I am ever back in St Ives.  (Kim)

Such a wonderful apartment in a fantastic position.  Highly recommended to all. (Geoff)

Spotlessly clean, spacious, with excellent facilities to look after yourselves for a short break or long holiday, summer or winter. Good location, only a few minutes walk down to Fore Street and harbour.  Very convenient parking, in Barnoon Car Park just across the road.  (Terry)

A beautiful spacious apartment. The owners made us feel very welcome and the facilities at the apartment are excellent. Would highly recommend this property and would definitely look at booking again for later in the year.

Has to be the best-prepared, clean and well-presented property I have stayed in.  When it comes to attention to detail, the owners have thought of everything. Fabulously located, right across from the Tate and only minutes walk to shops and restaurants in town.  Truly fabulous! (John)

We had a great week and would recommend this apartment. The main beach and Tate gallery are a short (downhill) walk away. Restaurants and bars are equally close, again downhill into the town. A good selection of shops, including Co-op supermarket, are within a five minute walk.

We had a great stay.  The apartment is even nicer than it looks in the pictures – very light, spacious and comfortable.  The kitchen is really well equipped.  One Ocean Breeze is very central and in a great location for all the attractions and beaches. (Ella and Rob)

Great location for beach, town and coastal paths.  Apartment is much larger than pictures show.  Everything we needed was there.  (Angela)

This is a large, stylish, ground-floor apartment close to Porthmeor beach.  Located just behind the Tate, it provides easy access into the main town.  The apartment was clean and warm with comfortable beds.  There was a great selection of books, games, etc.  I would definitely recommend staying at One Ocean Breeze and plan to re-book next year.  (Fiona)

We are a group of 3 adults from Australia and could not have chosen better than this beautifully presented, spotlessly clean, well equipped, great location apartment. Owners were very welcoming and most helpful with advice of the surrounds. We would not hesitate to recommend this lovely apartment.

What a beautiful place! so clean and everything you could wish for! opposite the car park which is a big plus in St Ives, and facing the sea also! walking distance to everything we wanted, will definitely return very soon! we have stayed loads of places in St Ives and this is the best, lovely owners as well!

Very clean, well equipped kitchen, spacious living area. Really comfy beds. 5 mins walk in to town up hill on the way back. (Vince)

September 2021

Mo
Tu
We
Th
Fr
Sa
Su
1
2
3
4
5
6
7
8
9
10
11
12
13
14
15
16
17
18
19
20
21
22
23
24
25
26
27
28
29
30
October 2021

Mo
Tu
We
Th
Fr
Sa
Su
1
2
3
4
5
6
7
8
9
10
11
12
13
14
15
16
17
18
19
20
21
22
23
24
25
26
27
28
29
30
31
November 2021

Mo
Tu
We
Th
Fr
Sa
Su
1
2
3
4
5
6
7
8
9
10
11
12
13
14
15
16
17
18
19
20
21
22
23
24
25
26
27
28
29
30
December 2021

Mo
Tu
We
Th
Fr
Sa
Su
1
2
3
4
5
6
7
8
9
10
11
12
13
14
15
16
17
18
19
20
21
22
23
24
25
26
27
28
29
30
31
January 2022

Mo
Tu
We
Th
Fr
Sa
Su
1
2
3
4
5
6
7
8
9
10
11
12
13
14
15
16
17
18
19
20
21
22
23
24
25
26
27
28
29
30
31
February 2022

Mo
Tu
We
Th
Fr
Sa
Su
1
2
3
4
5
6
7
8
9
10
11
12
13
14
15
16
17
18
19
20
21
22
23
24
25
26
27
28
March 2022

Mo
Tu
We
Th
Fr
Sa
Su
1
2
3
4
5
6
7
8
9
10
11
12
13
14
15
16
17
18
19
20
21
22
23
24
25
26
27
28
29
30
31
April 2022

Mo
Tu
We
Th
Fr
Sa
Su
1
2
3
4
5
6
7
8
9
10
11
12
13
14
15
16
17
18
19
20
21
22
23
24
25
26
27
28
29
30
May 2022

Mo
Tu
We
Th
Fr
Sa
Su
1
2
3
4
5
6
7
8
9
10
11
12
13
14
15
16
17
18
19
20
21
22
23
24
25
26
27
28
29
30
31
June 2022

Mo
Tu
We
Th
Fr
Sa
Su
1
2
3
4
5
6
7
8
9
10
11
12
13
14
15
16
17
18
19
20
21
22
23
24
25
26
27
28
29
30
July 2022

Mo
Tu
We
Th
Fr
Sa
Su
1
2
3
4
5
6
7
8
9
10
11
12
13
14
15
16
17
18
19
20
21
22
23
24
25
26
27
28
29
30
31
August 2022

Mo
Tu
We
Th
Fr
Sa
Su
1
2
3
4
5
6
7
8
9
10
11
12
13
14
15
16
17
18
19
20
21
22
23
24
25
26
27
28
29
30
31
September 2022

Mo
Tu
We
Th
Fr
Sa
Su
1
2
3
4
5
6
7
8
9
10
11
12
13
14
15
16
17
18
19
20
21
22
23
24
25
26
27
28
29
30
October 2022

Mo
Tu
We
Th
Fr
Sa
Su
1
2
3
4
5
6
7
8
9
10
11
12
13
14
15
16
17
18
19
20
21
22
23
24
25
26
27
28
29
30
31
November 2022

Mo
Tu
We
Th
Fr
Sa
Su
1
2
3
4
5
6
7
8
9
10
11
12
13
14
15
16
17
18
19
20
21
22
23
24
25
26
27
28
29
30
December 2022

Mo
Tu
We
Th
Fr
Sa
Su
1
2
3
4
5
6
7
8
9
10
11
12
13
14
15
16
17
18
19
20
21
22
23
24
25
26
27
28
29
30
31
January 2023

Mo
Tu
We
Th
Fr
Sa
Su
1
2
3
4
5
6
7
8
9
10
11
12
13
14
15
16
17
18
19
20
21
22
23
24
25
26
27
28
29
30
31
February 2023

Mo
Tu
We
Th
Fr
Sa
Su
1
2
3
4
5
6
7
8
9
10
11
12
13
14
15
16
17
18
19
20
21
22
23
24
25
26
27
28
March 2023

Mo
Tu
We
Th
Fr
Sa
Su
1
2
3
4
5
6
7
8
9
10
11
12
13
14
15
16
17
18
19
20
21
22
23
24
25
26
27
28
29
30
31
April 2023

Mo
Tu
We
Th
Fr
Sa
Su
1
2
3
4
5
6
7
8
9
10
11
12
13
14
15
16
17
18
19
20
21
22
23
24
25
26
27
28
29
30